What is rectal irrigation?
Rectal irrigation is the process of instilling a water solution into the rectum to promote defecation by breaking up stool and stretching the wall of the rectum. It is helpful in patients with severe constipation or stool incontinence.
What supplies are needed?
Enema bag with pre-lubricated 60-inch (about 150 cm) tubing [Figure 1] and K-Y jelly [Figure 2].
How do you prepare for rectal irrigation?
Open package and clamp the tubing
Squeeze the sides of the plastic handle to spread mouth of enema bag [Figure 3]
Fill bag with lukewarm/room temperature water about ¾ full from the top of the bag [about 1200 ml]
Expel air from top of bag by squeezing sides together [Figure 4]
Fold twice at the top to close [Figure 5]
After closing, slide on closure tab [Figure 6]
Hang bag so tube is not twisted/kinked [Figure 7]
Remove blue cover from tip of nozzle [Figure 8]
Open clamp and allow water to run through the tubing [Figure 7]
Re-clamp tubing once water is in the tube
Device is now ready to use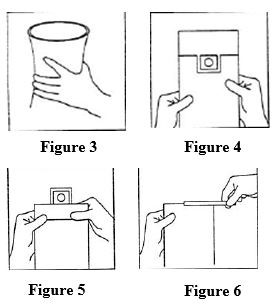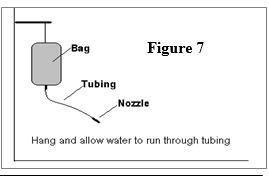 How is rectal irrigation administered?
Hang bag about 4 feet (1.2 meters) off the ground. The lower you hang the bag, the slower the flow of water

Lay on your left side, knee to chest, to aid in the flow of the water [Figure 9]

Lubricate the nozzle (after removing the blue cover) with K-Y Jelly

Gently insert the nozzle of the tube into the anus. Do not insert past the black line [Figures 10, 11]

Open the clamp slowly (keep clamp nearby to be able to control the flow of water). Stop or slow the flow if cramping occurs

Allow solution to flow into the rectum. Use a total of 500 to 1000 ml as needed to get the desired effect

Remove the nozzle/enema tube

Try to retain the fluids for 10 minutes

Go the bathroom and evacuate the enema and rectal content

How often should you do rectal irrigation?

In some cases, it is needed daily and in some patients on as needed basis. Dr. Maher Abbas will discuss with you.

Any questions? Contact Dr. Maher A. Abbas' office nurse here!