Treatment of proctologic conditions
Many conditions affecting the anal area can be treated successfully with medication without the need for surgery.  Such conditions include hemorrhoids, anal fissure, pruritis ani (anal itching), yeast infection, and constipation.  Creams and ointments are often used on the skin surrounding the anus, the anal opening, or inside the anus.  Anal suppositories are inserted inside the anus and pushed into the rectum.  Dr. Maher Abbas will prescribe the appropriate medication for your condition.  It is important to follow the instructions and use the medication for the duration prescribed.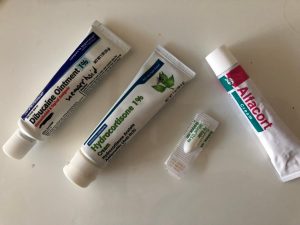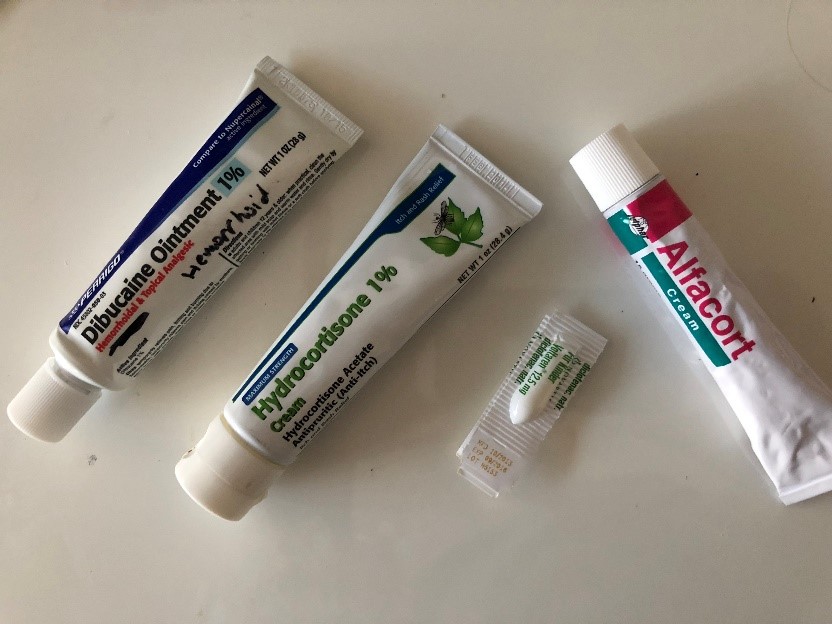 When is the best time to use the medication?
For proctologic medications to work effectively, it is best to apply after a bowel movement and/or sitz bath [see section on Sitz Bath].  Pain medication can be applied 5 minutes prior to a bowel movement to help control the pain.  Wash the area and dry well.  It is best to avoid rubbing and use a washcloth to pat dry the area.  After drying apply the medication.  If you are using a suppository once a day, best to use at nighttime to allow the medication to work overnight.  Exceptions include suppositories used for constipation such as glycerin or bisacodyl which can be inserted at any time you desire to have a bowel movement.
How to apply the medication?
Selected creams and ointments are used for specific anal conditions.  They are often not interchangeable.  Where to apply the medication depends on your condition.  For instance, a cream for external hemorrhoids is used on the skin outside the anus but if needed for internal hemorrhoids then it needs to be rubbed inside the anus.  Ointments used for anal fissure are best applied at the anal opening.   Anal suppositories need to be inserted into the rectum in order to allow the medication to dissolve and take effect.   It is best to wear a glove for good anal hygiene and to minimize the amount of medication that gets absorbed into the rest of the body.  Watch this video for further instructions of how to best use your prescribed medication.
Are proctologic medications safe?
Most medications used for proctologic conditions are safe when used as prescribed.  Most side effects are minor such as itching.  Avoid prolonged use (> 1 month) of cortisone-based ointments and creams as they can cause thinning of the skin. Nitroglycerin based ointment used for anal fissure can cause a transient headache.  Wear a glove and apply a small amount of the medication to minimize this side effect.  You can take paracetamol 500 mg 1 to 2 pills if you experience a transient headache.  If the headache is severe and does not resolve after a few applications, contact Dr. Maher Abbas' office for a different ointment.
Where to get your medication?
Some proctologic medications are available over the counter in pharmacies but some do require a prescription for medical necessity and for insurance reimbursement purposes.   A prescription will provide instructions of how to best use.  While most pharmacies carry many of these medications, some compounded medications are only available at select pharmacies.   For compounded formulation for anal fissure treatment, 2 local pharmacies in Dubai offer them to patients.  Kindly proceed to any of the 2 pharmacies to present your prescription and collect the medications.  For patients driving from another emirate or flying in from a different country to see Dr. Maher Abbas, the compounded formulas will be provided to you so you can seek the assistance of the nearest compounding pharmacy where you live.
Revitalife Compounding Pharmacy, FZ-LLC
Suite 013R, Block A, Ground Floor, Building 64
Al-Razi Medical Complex
Dubai Healthcare City, Dubai, UAE
Phone: (971) 4 4520646, Fax: (971) 4 4438231
Email:        rx@revitalifecompoundingpharmacy.com
info@revitalifecomoundingpharmacy.com
Magrudy's Shopping Mall
Jumeirah Beach Road
Dubai, UAE
Phone: (971) 4 3445246/4 3422568, Fax: (971) 4 3420771
Email:        scjum@CMGgroup.ae
Any questions?  Contact Dr. Maher A. Abbas' office nurse here.